✔ Open an account now ✔ Start with $100!
✔ Get a HUGE new client BONUS!
Copy trading platforms
Copy trading platforms enable traders to mirror or copy the trades of others. A trader can copy signals or mirror complete strategies, thus enjoying the experience and knowledge of successful traders. The different auto-trading platforms provided by AvaTrade give traders the confidence to engage in trading, as well as the option to trade when there is no available time, sufficient knowledge or experience. We also support expert advisors trading bots for MT4.
DupliTrade is a MT4 compatible platform which allows traders to automatically follow experienced traders' signals and strategies in real time. Its user-friendly interface makes it easy to build and manage a trading portfolio while gaining valuable insights on successful trading strategies.
One of the most popular auto trading platforms used today. ZuluTrade converts the recommendations of experienced traders and automatically executes the trade in your AvaTrade account. Select which program or experts are best for you.
MQL5 is fully integrated with MT4, so you can subscribe to signals from thousands of Australian and international providers directly from your trading platform.
What Are the Benefits of Trading Forex with ZuluTrade?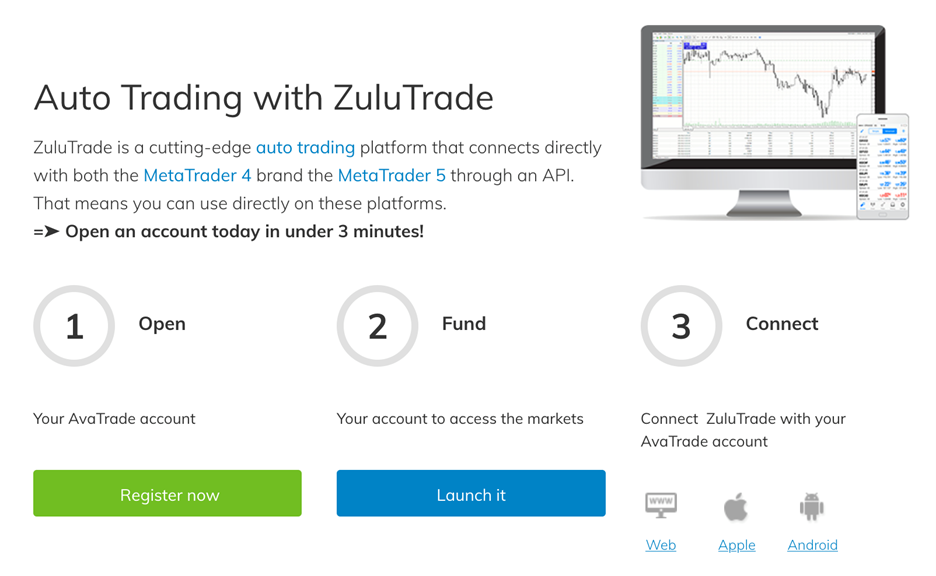 Access MT4 (MetaTrader 4) and MT5 (MetaTrader 5) through an API.
Experience fully immersive trading as part of a dynamic global community.
Generate comparative rankings of signal providers based on financial performance metrics.
ZuluTrade is a versatile, automatic trading platform that instantly connects you to top signal providers.
Implement effective trading strategies and risk management systems into your forex portfolio.
With ZuluTrade you get the best copy trading platform in the business. The user-friendly interface is fully accessible to novice traders and experienced professionals alike. You can trade on the go with MetaTrader 4 and MetaTrader 5, anywhere in Nigeria – Android and iOS devices are fully supported.
Copy trading is social trading; become a member of a dynamic community of traders where you can share trading tips, tactics, and strategies, learn from expert traders, and better understand the CFD forex trading market.  When you copy trade successful traders, you benefit from their expertise. ZuluTrade showcases a security blanket known as ZuluGuard. This is designed to safeguard your account in the event that your signal provider is unsuccessful in their trading activity.
What are the Benefits of Copy Trading with DupliTrade?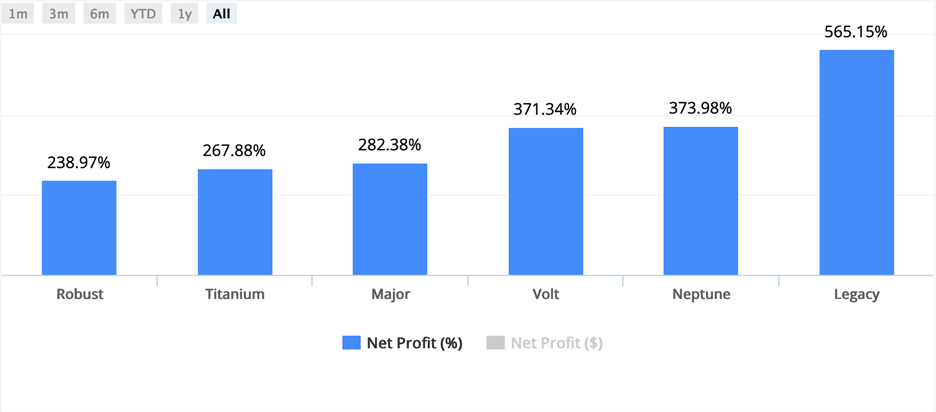 DupliTrade is another powerful forex trading platform available through AvaTrade. This user-friendly FX copy trading platform is fully transparent, and focused, to allow for easy copy trading.
With DupliTrade, you can instantly replicate the trading actions of experts, direct to your AvaTrade account.
A wide range of currency pairs is available, and you can pick from a list of proven trading experts. With DupliTrade, the performance of signal providers is presented in a graphical interface, for easy selection. The 4-step process to getting started with DupliTrade includes the following:
Register at DupliTrade
Link DupliTrade with your AvaTrade account
Pick trading accounts to follow and manage settings
Enjoy real-time analysis and tracking of your forex trades
With DupliTrade, you can instantly see how forex traders are performing. Metrics such as net profit/loss percentage, net profit, trades, win percentage, weeks, followers, and charts are provided. Simply click the blue 'Duplicate' button to copy trade them. As a new forex trader in Nigeria, you may not have time to learn the ins and outs of currency trading. Use DupliTrade to automate the process and profit from the actions of successful traders.
DupliTrade is a powerful automated forex trading platform.
DupliTrade simplifies the process of buying and selling currency pairs.
DupliTrade demystifies the complexity of forex trading and introduces traders to the world of social trading.
DupliTrade fully vets signal providers to ensure that only the best performers are listed for copy trading purposes.
DupliTrade is flexible enough to change signal providers if they begin to underperform, or if new successful forex traders emerge on the scene.
5 Advantages of Using a Regulated Nigerian Broker
AvaTrade is a fully licensed and regulated broker by multiple authorities including, the FSCA, the Financial Services Agency, the Financial Futures Association of Japan, Abu Dhabi Global Markets (ADGM) Financial Regulatory Services Authority (FRSA), the Central Bank of Ireland, B.V.I Financial Services Commission, and ASIC. As a regulated Nigerian broker, the integrity of your personal and banking information is guaranteed safe and secure at all times. AvaTrade is available to traders in 20+ languages
AvaTrade provides retail traders in Nigeria with full access to forex trading. Thanks to copy trading platforms like ZuluTrade and DupliTrade, you can easily pair your AvaTrade account with these powerful platforms, and benefit from the success of experienced traders. A full array of trading instruments is available, including commodities, stocks, and currency pairs. AvaTrade offers CFD trading online, on PC, Mac, Android, and iOS devices. With some 1,250+ financial instruments, there is no shortage of trading options.
AvaTrade offers competitive spreads, margin and leverage to maximise your trading potential. Thanks to automated trading platforms, and full EA compatibility you have access to cutting-edge innovation around-the-clock. The user-friendly platforms are designed for casual traders, and professional traders alike. Seamless integration between trading platforms ensures a hassle-free forex trading experience.
As the best copy trading platform, AvaTrade pioneered award-winning trading platforms such as AvaTradeGO, WebTrader MT4 , and AvaOptions for use with the world's ranking trading platforms in MT4 and MT5.
Security is enhanced with fully segregated accounts for traders at AvaTrade. This protects you in the event of insolvency, bankruptcy, or legal actions against the company.
Automated trading main FAQs
Does auto trading work?

Auto trading systems are not perfect, but when you consider that the majority of trading being conducted on major stock exchanges is reportedly auto trading it is easy to see that it clearly works when done properly. In fact, auto trading is nothing more than turning a trading system, the entry, exit and money management rules used to trade markets, into a programmed system rather than following it manually. Auto trading can even be considered superior to manual trading since it completely removes emotions from trading.

Is auto trading legal?

Auto trading in the currency markets, equity markets, commodity markets, and cryptocurrency markets is all completely legal. There have been no regulations or laws passed in any country that prohibit auto trading (that we're aware of). However, whether or not auto trading is allowed in an account is a decision made by the individual broker. Many allow auto trading, but some prohibit it for their clients. When you're trading with AvaTrade you're always free to use auto trading to enhance your trading and potential profits.

Is auto trading profitable?

There's no trading method that's inherently profitable, and that's true for auto trading as well. It can be profitable if the rules that are used to program the system are accurate, but auto trading can also be a quick method to empty a trading account. In addition, any automated trading system needs to be monitored at all times. A change in the market dynamics has been known to change a successful and profitable auto trading system into a losing, money draining beast. So while auto trading might seem like an easy way to profit, the truth is there's no easy way to profit from markets, although auto trading can make it easy to ensure you don't miss any trades.