Online Trading Made Simple
WebTrader - Online Trading Made Simple
WebTrader – all the essentials at the click of a button.
From its easy-to-use interface and modern design, this platform is simple to use and is suitable for both beginners and advanced traders. No need to download or install anything!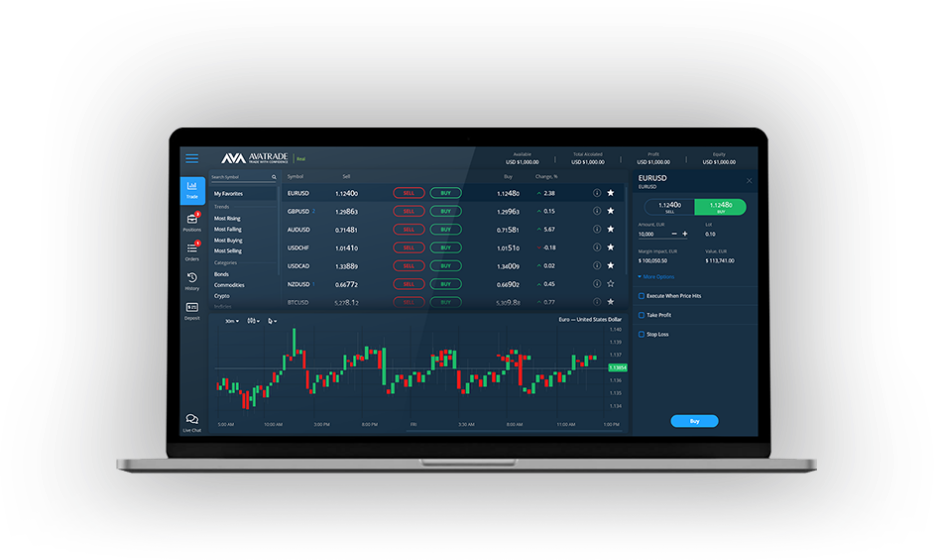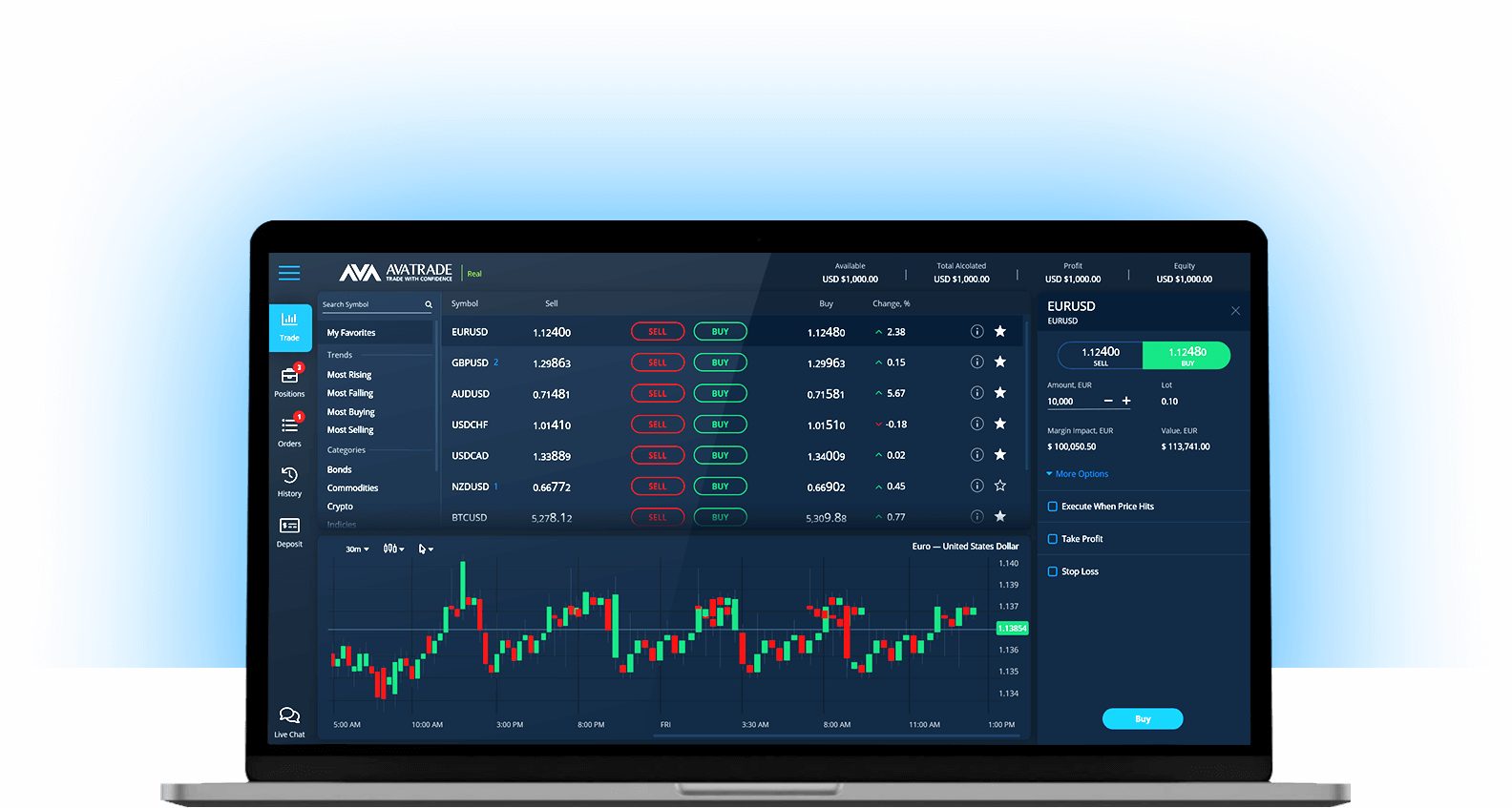 Why WebTrader?
If you're the kind of person who's interested in trading the markets without putting a lot of effort and time into comprehensive market research, then WebTrader is the perfect platform for you! It doesn't require any installation and it's available on any computer on any browser.
Trade Now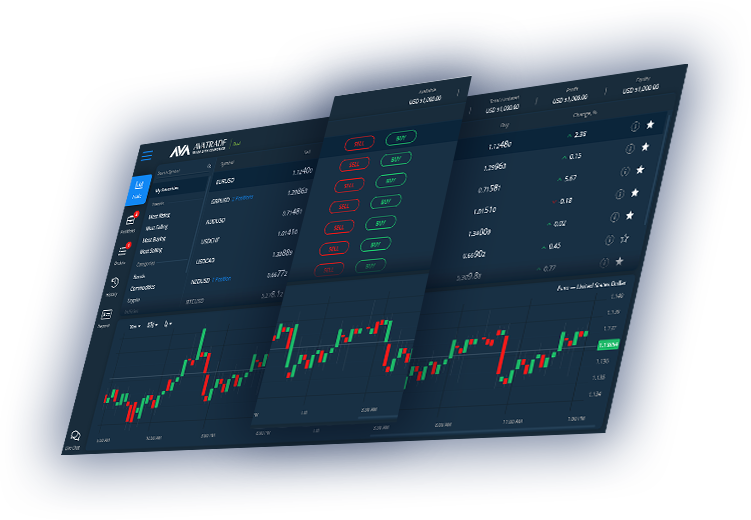 Utilise the Wisdom of the Masses
Buy and sell assets in seconds, and make educated decisions based on live market sentiment. Get accurate data on what AvaTrade's traders are buying or selling in real time and stay on top of the market without spending time on technical or fundamental analysis.
Trade Now
Increase Your Control
Get all the trading necessities for the ultimate trading results, including market and pending orders, take profit and stop loss, the option to partially close your positions, view trading history and charts. Open, close and edit individual and aggregate positions at the click of a mouse.
Trade Now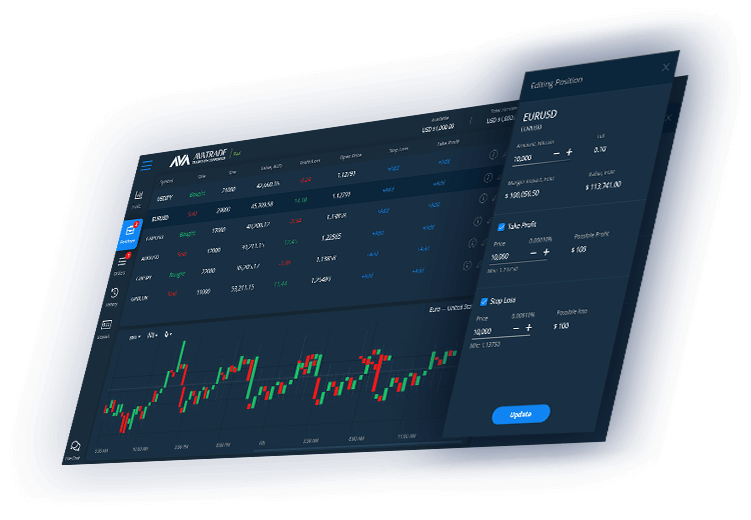 See WebTrader in action,
watch our video
See WebTrader in action, watch our video
AvaTrade:
Trade with Confidence
AvaTrade: Trade with Confidence


Invest in Yourself
There comes a time in a person's life when one has saved a small fortune and encounters a dilemma. What are the possible investment opportunities available for you and your money? Well, the answer is quite simple. The forex market has a volume of about $5 trillion a day! This staggering sum is comprised not only of transactions between banks, countries and large corporations; there are millions of people at different financial stages in life who invest in the dynamic forex market every day. AvaTrade offers a wide variety of assets to trade on, like cryptocurrencies, shares, gold, crude oil and more.
But how?
Can a person with little to no experience get into this market?
But how? Can a person with little to no experience get into this market?
Yes. AvaTrade provides a wealth of trading solutions for traders of all levels. To begin with, you would be starting with a demo account into which you don't deposit any funds whatsoever – merely trade as you would with a real account, only using virtual funds – paper money (which is why it's sometimes referred to as "paper trading"). There, you would learn to manage your risk, your equity and place stop loss and take profit orders. Once you learn the basics, you could start experimenting with hedging techniques – how to "insure" your positions, scalping – the very high-pressure technique of building profits in very small and quick increments, and more. All in all, if you're a beginner and want to test the waters, then online trading is the answer. Our WebTrader platform is simplicity itself; on the go, you can use our mobile AvaTradeGo app, and – once you've gotten the hang of things – you might want to tackle vanilla options with AvaOptions.
What is WebTrader, and do I need experience to use it?
The WebTrader is an innovative online trading platform, designed especially for novice traders. With its easy to use interface and modern design, online trading has never been so simple. There's no need to download or install anything, and you can access WebTrader from any computer connected to the internet and trade from anywhere in the world. What's so great is that you can see in real time what our clients are trading at the moment, get push notifications on everything that's hot in the market and trade! Minimum hassle, maximum results! Take your future into your own hands and experience the most user-friendly trading platform on the market. What are you waiting for? Start trading with WebTrader today!